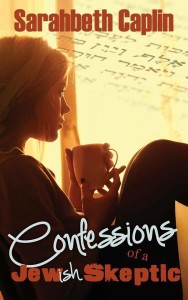 I recently read Sarahbeth Caplin's latest book, Confessions of a Jew-ish Skeptic: a memoir. Once I started reading, I couldn't stop. I read the entire book in one evening. In Confessions, Caplin documents her journey away from her Jewish upbringing into the harsh world of evangelical Christianity, then back again to embrace her Jewish roots. She shares insightful stories about her life, including everything from her childhood experiences of discrimination as a Jewish girl to the abuse she experienced in an evangelical Christian environment.
I could relate to Caplin's journey in so many ways since I've spent the last few years doubting my faith tradition and struggling with my religious identity. She recounts the reactions of Christian insiders to her questions, as well as to her inability to participate in a like-minded manner in group settings. Like Caplin, I have been called a "heretic" for doubting my faith and questioning long-held religious traditions.
I appreciated how Caplin tackles Christian theology with grace and humility. She shares her evolving concept of God; she challenges the Christian definition of 'Gospel'; and she addresses the discrimination of minorities in the name of religion. Caplin put into words many of the skeptical feelings I've had about evangelical Christianity.
Caplin also shares much about the Jewish culture and faith tradition and how they differ from American Christianity. I found the comparisons and differentiations to be enlightening, answering some of my own questions relating to Biblical interpretations.
Caplin empathizes with other skeptics. It was comforting to read the journey of someone who doubts and questions Christianity, yet hasn't completely given up on it. Instead, she shows her readers how to accept their skepticism as part of their religious identity. I highly recommend this quick and easy read to anyone looking for encouragement as they wrestle with faith and doubt.
A few of my favorite quotes from the book:
Today, I think my place is to speak up for the closeted doubters. Sometimes the believer who seems most adamant is the one with the deepest skepticism. I know, because I've been that person. (p. 12)
I know how stressful it can be when your faith is falling apart, when the rigid devotion of the rest of your clan is so intense that it doesn't allow for debate or discussion. (p. 12)
All people want to be respected, and in my experience the best way to show respect is to ask someone what her journey has been like – how she became who she is – then shutting up to listen. Nobody likes being treated as a project. (p. 44)
Despite the doubt, I keep on pressing, keep on challenging, because simple pat answers do not placate me, and only when I have the raw truth will I give up, no matter how unpleasant it might be. (p. 47)
It's not for me to say that a stranger's life is devoid of meaning because their religious views and life choices differ from mine. (p. 50)
Sometimes the people who are most aware of their flaws accomplish so much more, because there is something about recognizing weakness that makes a heart soft. Those who try to build up their resume of good deeds are more likely to look down on others who haven't done as much. (p. 52)
The amount of grace I have for people who tried to believe and failed only increases as I get older. (p. 63)
"Love the sinner, hate the sin" is a nice sentiment: a choice to love people without always agreeing or supporting what they do. It sounds wonderful in theory but often fails in practice, when hating the sin feels an awful lot like hating the sinner. Truthfully, I have no time or energy to hate other people's sins. There's no one's sin that I despise more than my own. (p.94)
I've always been that person who made other people uncomfortable in Bible studies because I asked so many questions. The clichéd pat answers never satisfied me. (p.102)
When I decided to take a sabbatical from church, I wasn't giving up because I had decided all Christians were spiritually abusive. What I meant was I'm too burned out to keep going right now. (p.114)