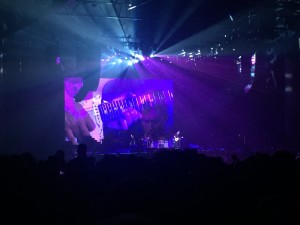 Back when my oldest daughter was taking guitar lessons a few years ago, she fell in love with John Mayer's cover of "Free Falling" and learned how to play it. She's been a huge Mayer fan ever since, singing along to his songs on her playlist. Over the years, she often said, "If John Mayer is ever in concert within driving distance, I'm going to see him." Well, it just so happened that he played Thursday night in Atlanta, a two-and-a-half-hour drive from us. We purchased last-minute tickets and took off as soon as she got home from school.
We missed the opening act's entire performance and made it to our seats about thirty minutes before Mayer was scheduled to perform. A quiet anticipation buzzed among the packed amphitheater. When the lights finally went down and the band started walking on stage, the audience full of twenty-and-thirty somethings rose to their feet with excitement. When Mayer walked out, the level of audible titillation rose to a fever pitch. And with the first note, we were all entranced.
Now, I have to admit I've never been a huge Mayer fan. Of course, I liked his most notable songs — "Waiting On the World To Change," "Gravity," "Your Body Is A Wonderland," and "Daughters" — but I can't say I've ever put one of his songs on any of my playlists. I didn't know many of the songs on his setlist, but I was as completely spellbound as the rest of his groupies. We stood for two hours straight, and no one around us ever bothered to sit for even a rest.
We danced to every song, and we stood still as he told stories. We cheered like fools every time he played a guitar solo. John Mayer had come to save us from our monotonous Thursday night, and we all but bowed down to his musicianship.
His passion for his music was both obvious and contagious. More than once, I felt myself completely engulfed by the band's rhythm and soul and harmonies. I drifted in and out of the moment, my own heart and soul begging me to find that same kind of musical-collaboration magic again. Every musician who's ever collaborated knows the mysterious power that falls over people who bring the best music out of one another to create a sound one can't make alone. I digress.
After two hours, the clouds that had threatened rain all evening began to spill. Sprinkles began to wet our faces and arms as Mayer walked off stage and the lights went black. We were all waiting to hear "Gravity." The crowd raised their phone flashlights, setting a serene and surreal scene. As Mayer and the band walked back on stage and started to play the final song, I was momentarily transported to another plane or dimension. The guitar solo and the drops of rain merged to wrap me in a melodic alchemy. For a split second, I was the only person there. I felt tears sting the corners of my eyes, and my heart felt like it might explode . . . the power of music once again at work.
When the song was over and the stage was empty, the audience seemed to take a collective pause and sigh. Our Thursday night had been redeemed by one man's lust and infatuation for making great music.
By the way, you can count me as a John Mayer fan now.