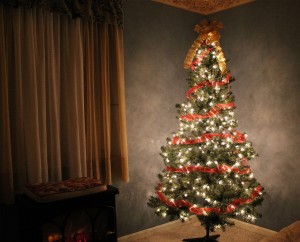 The trees are decorated. The mantle is complete with stockings hung with care. A few presents are wrapped and litter the floor beneath the Christmas tree. I've already watched quite a few holiday movies. The radio has been tuned to the local Christmas music station for weeks. We're in full-on holiday mode, which also means I've already had my first holiday-induced-anxiety breakdown.
I have a love-hate relationship with the holidays. I love the warm glow of tiny lights. I love the excitement of the season. I love holiday music. I love how people seem to be extra kind for a few weeks. I love giving gifts. I love eating all the rich, decadent foods I don't touch the rest of the year. I love that my kids are out of school for an extended period of time. I love all the cheesy Christmas movies that end with two unlikely folks falling in love. There's much to love about the holidays.
But there's one thing I hate: the loneliness.
There's something about the holidays that brings to surface the need for connection and intimacy. Maybe it's all those damn coffee commercials showing everyone coming home to loved ones for the holidays. Maybe it's the lyrics to "I'll Be Home For Christmas." Maybe it's the myth that though all can be wrong with the world, everything is right on Christmas night. Whatever it is, it leaves me feeling hollow and empty because: not everyone goes home for the holidays, not everyone has a cheerful family ready to greet them at the door with a hot cup of coffee, not everyone will be comfortable and cozy on Christmas night or cheerful on Christmas morning.
Last year, late on Christmas Eve, I laid on my bed, heaving crocodile tears into my pillow, silently cursing the day I was born. Earlier that evening, I'd learned of an incident that left me feeling rejected and alone. Though my husband tried to console me, the empty ache in the pit of my stomach persisted.
I'm not sure there's another date on the calendar when loneliness feels so utterly defeating. Every year on December 24th, social media feeds are filled with photos of family gatherings, stores have emptied and closed, and "It's A Wonderful Life" plays on the TV. Culture tells us everyone is warm and well-loved on Christmas Eve, but for many, that's not true. Many folks simply survive the season while waiting for it to be over.
Perhaps the best gift we can give to others this Christmas is ourselves. Maybe a smile and a kind word will help someone feel less lonely. Maybe an unexpected invitation will bring peace to anxious hearts. Maybe greeting someone with that cup of hot coffee at the front door will be the way to reach into their ache and comfort it.